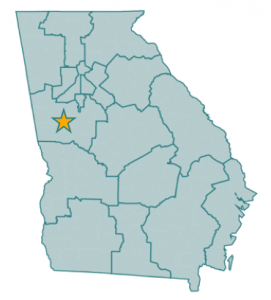 This fellowship posting is in District 4 in LaGrange, Georgia. The fellow selected for this position will be an employee of Emory University's Rollins School of Public Health for the duration of the fellowship, but will spend their time working as a level 1 epidemiologist within District 4. This position has the ability to work remotely for 1 day per week.
The Fellow can expect to engage in a variety of epidemiologic activities with priorities being:
Case and outbreak investigations for notifiable diseases

Preparing regular COVID-19 epidemiologic reports

Community health/needs assessments
In addition to regular duties, the Fellow will need to complete an oral/poster presentation and at least two required analytic, evaluation, or quality improvement projects such as: 
Establishing and reviewing/revising processes and/or protocols for the collection, review, and analysis of comprehensive surveillance data on chronic health conditions to include diabetes, hypertension, HIV, STDs and Opioids from multiple sources.

Collaborating with the Department of Environmental Health to obtain and analyze quantitative/qualitative data on the increase of foodborne outbreaks throughout the district to coincide with restaurant health scores across the district.

Leading a Quality Improvement project on epidemiological processes to include: 1) health education in at-risk communities; 2)  developing, presenting, and funding health initiatives, and 3) identifying qualitative/quantitative projects in the STD/HIV programs.
A cover letter is a required component of all ECRC fellowship applications. Please upload the cover letter in the Supporting Documents section of the application and specify in your letter which Fellowship location(s) (i.e. districts positions) you are applying to.